This is the Place I Was Telling You About
Tumerico in Tucson
"My favorite secret restaurant spot? Easy. It's Tumerico."
– Don Guerra, baker/owner of Barrio Bread (Tucson)
The Place: Tumerico
Owner Wendy Garcia uses only fresh, organic and natural ingredients to prepare the from-scratch dishes she serves at her vegan and gluten-free restaurant. The menu changes daily, but the food is consistently good—so good, in fact, that "Diners, Drive-Ins and Dives" host Guy Fieri called his mom during a taping to rave about Tumerico's carne asada plate made from jackfruit instead of beef.
Try the butternut squash tamales made with GMO-free corn or the brownie made with banana, almonds, cashews and cocoa if they're on the menu.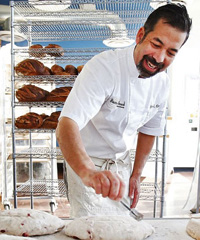 Says Who? Don Guerra
Listed as one of the Top 10 Bakers in America in 2016 by Dessert Professionals, Don Guerra worked in several bakeries and opened two of his own before earning a teaching degree. He soon found the classroom was no substitute for baking bread and set up a bakery in his Tucson garage that led to his opening of Barrio Bread in 2009.
Lines form early for his crusty loaves made from local heritage grains like Sonoran white wheat.