This is the Place I was Telling You About
TT Roadhouse in Scottsdale
"This is our super-secret favorite dive bar. It's a craft-beer gem in Scottsdale. A great local place to grab a beer, and with one of the best jukeboxes in town."
– Leah Huss, owner of Huss Brewing Co. in Tempe
The Place: TT Roadhouse
Located behind a convenience store, TT Roadhouse is not easy to find. But then again, what worthy dive bar is? Don't be fooled by the Scottsdale zip code, either; there's no need to don your heels and little black dress here. TT Roadhouse offers good beers, stiff cocktails, darts, pool tables, plus a killer jukebox loaded with rock, punk and alternative tunes.
You'll meet the locals for sure, and maybe even feel like one yourself. Order up the daily special—the Trash Can, with Hamms or PBR and a well shot, for $4.50. Or stop by on Sundays when cans of PBR are just a buck.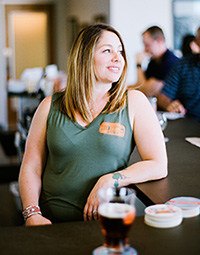 Says Who? Leah Huss
Tempe-based Huss Brewing Co. has earned a "Best of Phoenix" award from the Phoenix New Times for their flagship brew, Scottsdale Blonde.
Leah Huss and her husband, Jeff, co-own and operate Huss Brewing Co., bringing to the taps nearly 30 years of combined experience in the Arizona craft-brew industry.
You can find Huss beers at restaurants and in stores around the state, or visit the brewery's two taprooms, one in Tempe and one in central Phoenix.