This Is the Place I Was Telling You About
Pig & Pickle in Scottsdale
"This is my favorite super-secret place: Pig & Pickle in Scottsdale."
– Anthony DeMuro, chef at Different Pointe of View (Phoenix)
The Place: Pig & Pickle
Pig & Pickle's chef-owners, Keenan Bosworth and Joshua Riesner, use only real sugar and fat at their gastropub and make everything – from the bread and aiolis to the sausages and charcuterie – in-house.
Critics rave about the pork shoulder tacos accented with kimchi, ginger and scallion, as well as the wood-oven-roasted bone marrow and boozy handcrafted cocktails. Come for the happy hour, which often tops Scottsdale's "best of" lists, and stay for a relaxed dinner.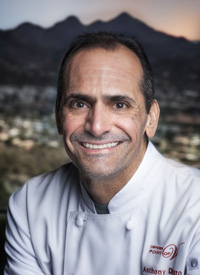 Says Who? Anthony DeMuro
Chef Anthony DeMuro started as a dishwasher at an Italian restaurant. When the cook didn't show up, he stepped in.
After graduating with a culinary arts degree from Scottsdale Community College, he worked his way through the ranks of Hilton resorts in California and Phoenix, eventually becoming executive chef at Pointe Hilton Tapatio Cliffs Resort's AAA Four-Diamond restaurant, Different Pointe of View.
DeMuro is inspired by local ingredients, vivid colors and the bold flavors of Mediterranean cuisine.