This is the Place I Was Telling You About
Na D Li in Flagstaff
"Na D Li is a hole-in-the-wall Korean barbecue place where the owners cook the food and serve it. Try the spicy ramen or the bibimbap."
– Joe and Dara Rodger, chefs and owners of Shift Kitchen & Bar (Flagstaff)
The Place: Na Di Li
No matter your "experience level" with Korean food, Flagstaff's Na D Li has something for everyone, from bulgogi platters (grilled or roasted marinated slices of beef or pork) and bibimbap (warm white rice topped with sautéed veggies, chili paste and an egg) to soft tofu soups.
The menu is tricky to decipher, so look to the owners to guide you. They'll happily direct you to an authentic Korean dish that suits your palate and heat tolerance. The best way to indulge? Order several appetizers and share with friends. The perfect refueling stop after a Grand Canyon hike.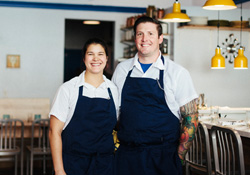 Says Who? Joe and Dara Rodger
Flagstaff welcomed Shift to its burgeoning culinary scene in 2016, and the restaurant has since received accolades from local outlets like PHOENIX magazine to national media, such as Wine & Spirits Magazine.
Married couple and chefs/owners Joe and Dara bring a high-energy, propulsive spirit to their small but mighty restaurant, where dishes range from pickled French fries and apple-squash soup to short rib cavatelli. Stop by in the morning for one of Dara's housemade pastries.
Thumbnail image by Instagram user @burrieej.