Hey, Chef! What's in Your Fridge?
Mom's Tamales, Vegan Sushi and Chlorophyll
Think all chefs stock their fridge with artisanal jams and fancy cheeses? OK, yes, many of them do. But you'll find plenty of beer and butter, too. In this feature, the state's culinary bigshots take us behind the door of their refrigerators—prepare to be surprised.
(Thanks to the chefs for their photos.)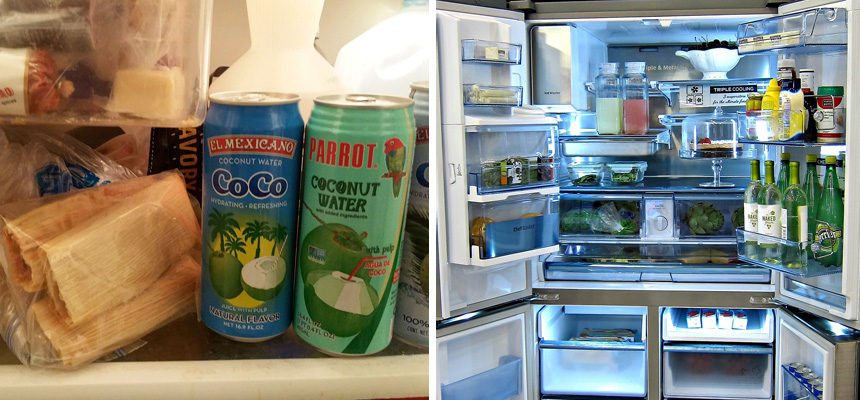 Chefs Christopher Smith's (left) and Mercer Mohr's fridges (right)
"What's in my refrigerator right now? My mother made me some tamales. I also have coconut water, orange cream soda, eggnog. And always—milk."
– Christopher Smith, chef at Merkin Vineyards & Osteria (Cottonwood)
"My wife and I like to have a monthly dinner party at the house and invite a few friends. We set up cooking stations and every couple makes a dish. We've had grilled pizza, mussels, vegan sushi."
– Mercer Mohr, chef at Creekside Bistro (Sedona)
"I usually have a bottle of Champagne in there. A bottle of smoked soy sauce; that's always key. And in my freezer, I have a cup of Eegee's. It's a southern Arizona thing, almost like a shaved ice. I was introduced to it a few years ago in Bisbee. Every time I go to Tucson, I stop at Eegee's. It's a nice treat if you're on a road trip—it hits the spot."
– Ryan Swanson, chef de cuisine at Kai (Chandler)
The insides of chefs Anthony Demuro's (left) and Dominique Stoller's (right) fridges
"Lots of fruits and vegetables. Carrots, broccoli, cauliflower, spinach, apples, grapefruit and other citrus. I make a lot of healthy smoothies using raw vegetables and fruits. It's how I trick the kids into getting their vitamins and nutrients."
– Anthony DeMuro, chef at Different Pointe of View (Phoenix)
"I work so much that I have the bare minimum in my fridge at home: some prepped organic salads, homemade balsamic dressing, chlorophyll, Kirkland's margarita mix and Guinness beer. And I think that's a pan of lemon bars."
– Dominique Stoller, executive pastry chef at HUB Restaurant & Ice Creamery (Tucson)
"Beer and seltzer. That's about it."
– Francis Leavy, head brewer, Mother Road Brewing Company (Flagstaff)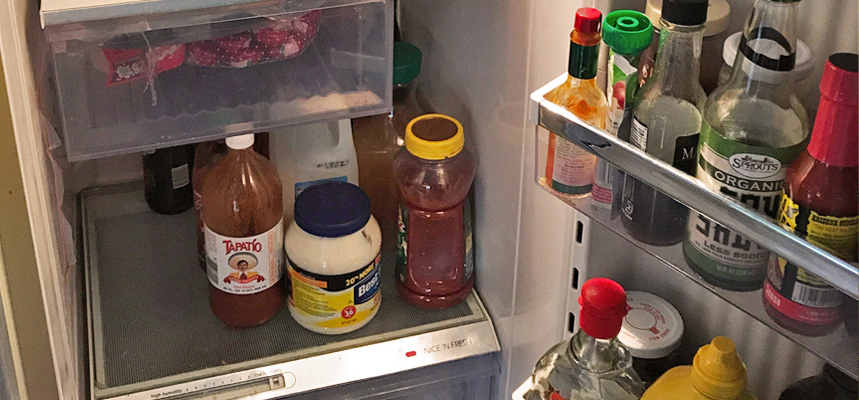 Joe and Dara Rodger's fridge
"Staples in our fridge are eggs, leftovers, and lots and lots of condiments. This picture shows an unusually 'full' fridge for us."
– Joe and Dara Rodger, chefs and owners of Shift Kitchen & Bar (Flagstaff)