This Is the Place I Was Telling You About
Mariscos Ensenada in Phoenix
"Mariscos Ensenada. I am a weekly regular there. I order, without fail, a half-dozen raw oysters topped with raw shrimp and raw scallops, served with a side of Aguachile sauce. You have to try the smoked marlin tacos. They are better than in Ensenada. I have a house in Rosarito Beach, Baja, California, so eating at Mariscos Ensenada takes me back home without having to drive six hours."
– Silvana Salcido Esparza, chef/owner at Barrio Café (Phoenix)
The Place: Mariscos Ensenada
This family-owned, four-restaurant chain dishes up some of the freshest seafood you can find in the metro-Phoenix area. In addition to expertly prepared fish tacos, Mariscos Ensenada plates whole filets, creamy seafood pasta and unique dishes like sea-snail tostadas. You'll also find traditional Mexican dishes on the menu, as well as Buffalo wings, fried mushrooms, and fish and chips. Order a beer or tequila, and plan to spend several hours listening to modern jukebox music or watching a game on the big screen.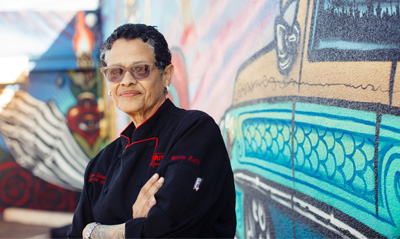 Photo by Jill Richards
Says Who? Silvana Salcido Esparza
A James Beard Award nominee and Arizona Culinary Hall of Fame inductee, Chef Silvana Salcido Esparza draws on her experiences backpacking through Mexico for nearly two years to create authentic dishes at her four Phoenix restaurants. Her first, Barrio Café, has received national acclaim, including a segment on Food Network's "Diners, Drive-Ins and Dives."
When not in the kitchen, she's a tireless advocate for her 16th Street neighborhood, where she can be seen driving her low-rider.
Where to Find Them
Mariscos Ensenada doesn't have a website or any official social media accounts. To experience the flavors of this chef's favorite place, visit any one of their following locations:
Downtown
2019 N 16th St.
(between East Oak St and East McDowell Road)
Maryvale
2919 N 59th Ave.
(between West Osborn and West Thomas roads)
Uptown-Camelback
4130 N 27th Ave.
(just north of West Indian School Road)
West Phoenix
3242 W Van Buren St.
(northeast corner of Van Buren and N 33rd Ave.)
Thumbnail image by @plaiddad_raddad on Instagram.