This Is the Place I Was Telling You About
La Roca in Nogales
"La Roca in Nogales, Sonora: not technically in Arizona, but worth the trip across the border. They've been around for decades. I remember going there when I was in junior high with my family on trips to San Carlos. White tablecloths, waiters in jackets, occasional mariachis, fantastic food. On a street that has seen its glory fade ... La Roca remains a classy throwback."
– Stephen Paul, owner/distiller of Hamilton Del Bac Distillers (Tucson)
The Place: La Roca Restaurant & Bar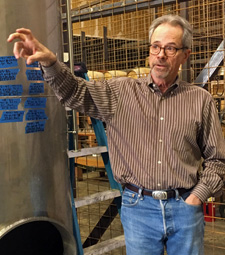 A short walk from Nogales, Arizona, to Nogales, Sonora in Mexico, La Roca has been a favorite with locals and tourists since Jimmy Wilson opened it in 1972. Not much has changed over the years.
Inside, English-speaking waiters in white jackets still serve classic Mexican fare like tacos, burritos and icy margaritas, as well as fresh seafood and grilled steak. Dine in the bright blue main dining room next to a natural cliff-face wall or stake out a seat on the balcony for incredible courtyard views.
Says Who? Stephen Paul
A custom furniture designer, Stephen Paul accepted a challenge to see if he could create a distinctly Sonoran whiskey by malting barley over mesquite scraps.
He was so successful that Hamilton Distillers' mesquite-smoked, clear and unsmoked Del Bac whiskeys have all medaled at the San Francisco World Spirits Competition, and both Esquire and Forbes Magazine rank his mesquite-smoked whiskey among the nation's top 10 craft whiskeys. Del Bac whiskeys can be sampled throughout the state.