Hey, Chef! What's in Your Fridge?
Guinea Fowl, Nut Butters and Dog Food
Ever wonder what chefs keep in their refrigerators at home? This is your chance to find out. Kevin Binkley, Nobuo Fukuda, Caleb Schiff, and several other Arizona chefs and growers give us a peek inside their personal refrigerators.
(Thanks to the chefs for their photos.)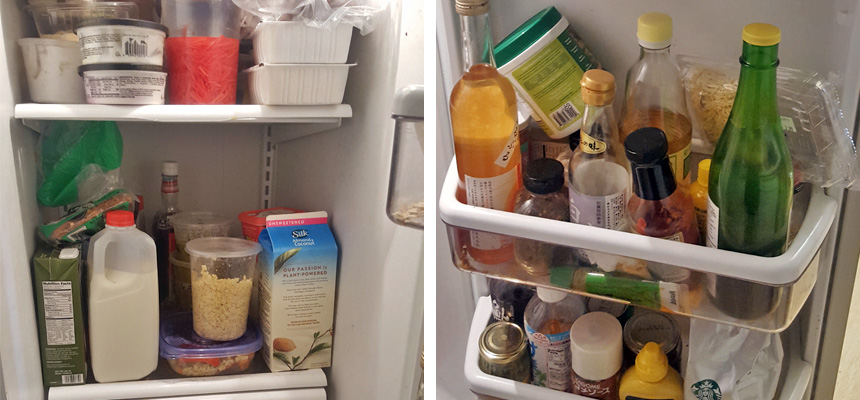 Chef Nobuo Fukuda's fridge
"We have a combination of American and Asian ingredients in the fridge. You could find anything from chia seeds and Parmesan cheese to miso paste and a guinea fowl carcass for soup."
– Nobuo Fukuda, chef and owner at Nobuo at Teeter House (Phoenix)
"My refrigerator is usually full of condiments, like chile and oyster sauces, vinegars and oils, and homemade jams and nut butters that I'm experimenting with. And always ice cream. Chocolate ice cream."
– Abbie Ashford, chef and owner at Abbie's Kitchen (Cottonwood)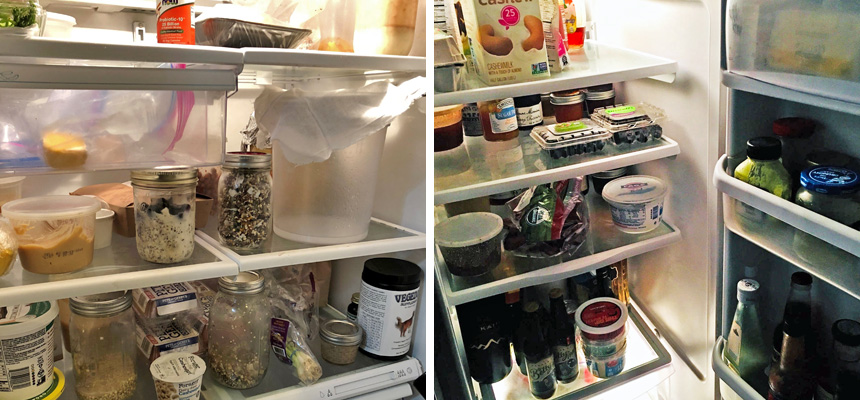 Chef Caleb Schiff's (left) and Chef Kevin Binkley's (right) fridges
"Dog food. I make my dog's food. I love him and want him to live forever so Kaiser lives off a diet of vegetables, chicken, brown rice, liver and supplements. Also in my fridge are lots of leafy greens. I braise four to five bunches of kale, chard or collard greens every week. This is a must to keep me happy and well-recovered from long runs. And homemade cashew milk yogurt; you can see it in the sieve in the photo. It's delicious!"
– Caleb Schiff, chef and owner at Pizzicletta (Flagstaff)
"Yogurt, farm eggs, condiments, berries, shaved smoked turkey, lettuce, beer, wine and cashew milk."
– Kevin Binkley, chef and owner of Binkley's Restaurant (Phoenix)
"Lots of cheese and milk. And plenty of Corona."
– Wendell Crow, owner and farmer of Crow's Dairy (Phoenix)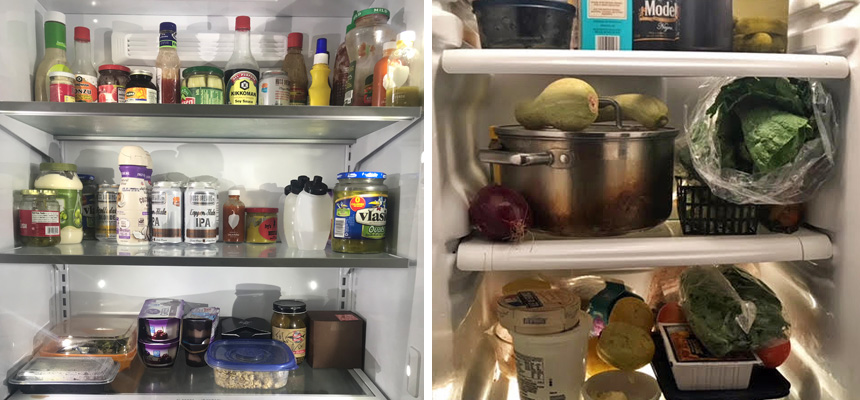 Brewery owner Leah Huss' (left) and baker Don Guerra's (right) fridges
"From the looks of my fridge, you'd never know I cook dinner almost every night. It looks like all condiments, but my husband says I'm the queen of making a meal from nothing."
– Leah Huss, owner of Huss Brewing Co. (Tempe)
"We made the mistake of buying a counter-depth fridge for a family of four. The contents always include a bunch of organic veggies, some tasty aged cheeses and a variety of random leftovers that are easy to transform into a 20-minute dinner."
– Don Guerra, baker and owner of Barrio Bread (Tucson)