This Is the Place I Was Telling You About
Farside Bistro in Cottonwood
"Farside Bistro in Cottonwood has the best baba ghanoush I think I have ever had. A couple owns this little Mediterranean establishment, and they make everything from scratch, utilizing really quality ingredients. It's a skip and a hop away from Sedona."

– Michelle Jursin, chef/co-founder at Haunted Hamburger (Jerome), Grapes (Jerome), Nic's Italian Steak & Crab House (Cottonwood), Bocce (Cottonwood), Crema Craft Kitchen + Bar (Cottonwood) and The Tavern Grille (Cottonwood)
The Place: Farside Bistro
Linen tablecloths, wood floors and ornate rugs on the wall set the stage for some of the state's best Mediterranean and Persian cuisine, thanks to computer-technician-turned-chef Hojat Nabipour, who turns out moist chicken kabobs, meaty lamb shanks, silky smooth hummus and other dishes while his partner, Golab Momen Khani, works the front of the house. All entrées come with aged long-grain white Basmati rice, house-made pita bread and choice of dip. Don't leave without sampling the Turkish coffee and the rose-scented Persian ice cream.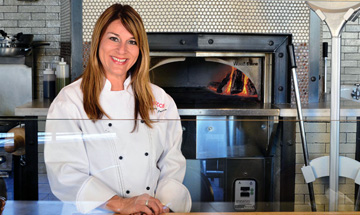 Says Who? Michelle Jursin
Chef and restauranteur Michelle Jursin grew up cooking in her Italian grandmother's kitchen and working in her dad's deli. She trained in a professional kitchen under a James Beard award-winning chef in Venice before opening six restaurants in Jerome and Cottonwood—including the Haunted Hamburger and Nic's Italian Steak & Crab House—with her husband, Eric.
Pizzeria Bocce, the Cottonwood restaurant she opened after becoming certified by the Associazione Verace Pizza Napoletana (AVPN), has received national acclaim.