This Is the Place I Was Telling You About
Copper Star Coffee in Phoenix
"Copper Star Coffee in Phoenix. Awesome vibe, cute patio—with a fire pit for when it gets colder—plus, the coffee is delicious, and the baked goods are hard to resist."
– Sara Garrant, executive chef at Michael Mina's Bourbon Steak (Scottsdale)
The Place: Copper Star Coffee
Housed in a former Melrose District gas station, Copper Star Coffee sells perfectly crafted coffee drinks, fresh-brewed teas, fruit-filled smoothies, Italian sodas, house-made lemonade and other premium beverages. But the food isn't an afterthought.
Grab a bagel sandwich of egg, honey ham and gooey American cheese for breakfast or the curry-chicken salad stuffed in a soft pita later in the day. Save room for the blueberry tart drizzled with white chocolate or a palm-sized chocolate-chip cookie for dessert.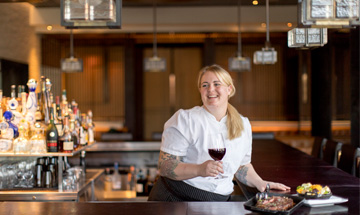 Says Who? Sara Garrant
The executive chef at Bourbon Steak at the Fairmont Scottsdale Resort and Spa got her start helping her mom prepare meals for salmon fishing crews in Alaska.
After graduating from Le Cordon Bleu in Ottawa, she worked under Chef Chris Curtiss at Noca in Phoenix, moved briefly to San Diego and reunited with Curtiss at Bourbon Steak in 2013. She's been with the Mina Restaurant Group since eventually succeeding Curtiss as executive chef.
Photo courtesy of Fairmont Scottsdale Princess