Hey, Chef! What's in Your Fridge?
Beer, Brine, Broth … and 10 Pounds of Molé
Think all chefs stock their fridge with artisanal jams and fancy cheeses? OK, yes, many of them do. But you'll find plenty of beer and butter, too. In this feature, the state's culinary bigshots take us behind the door of their refrigerators—prepare to be surprised.
(Thanks to the chefs for their photos.)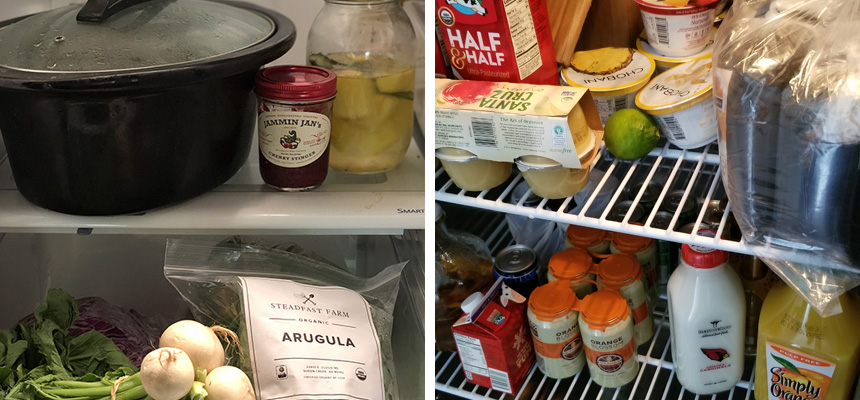 Chef Jon Przybyl's (left) and Chef Silvana Salcido Esparza's (right) fridges
"There's homemade beef broth, spicy pineapples, Jammin Jan's Jam, Steadfast Farms arugula, radishes, microgreens, labneh, Persepshen Picked Cauliflower, Arcadia Meat Market carne asada, Proof Bread all day, lemon juice."
– Jon Przybyl, owner and baker of Proof Artisan Bread (Mesa)
"Greek yogurt. Ten pounds of black molé. Chiles, jalapeños, lots of mustard, and beer. And organic half-and-half for my café."
– Silvana Salcido Esparza, chef and owner at Barrio Café (Phoenix)
"Eggs, bacon, flour tortillas, salsas, milk, water, juice, kombucha and pumpkin muffins."
– Sara Garrant, executive chef at Michael Mina's Bourbon Steak (Scottsdale)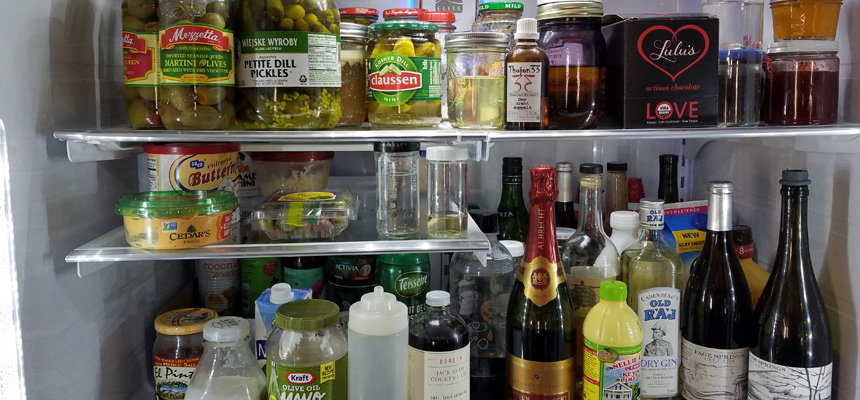 Winemaker Eric Glomski's fridge
"Olives, olive brine, Old Raj Gin and Sutton Cellars artisanal vermouth from the Bay area, all for making dirty martinis. Some sparkling Albrecht Cremant for Sunday mornings, Lulu's chocolates, Danzeisen half-and-half for espresso, various shrubs, syrups and tinctures for cocktails, and Page Springs White and Rose. Oh yeah, there is food in there somewhere, too."
– Eric Glomski, owner and director of winegrowing at Page Springs Cellars (Cornville)
"As a restaurant owner, my fridge is not always filled with fresh food; however, you can always find a big selection of hot sauces and preserves, such as smoked garlic, pickled asparagus, pickles, marmalades. And cheese—lots of cheese."
– Tomas Agostino, chef and owner at Dellepiane (Sedona)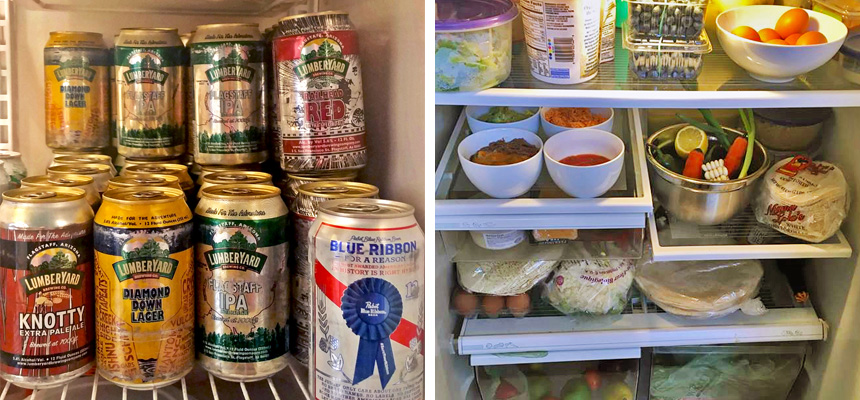 Inside Chef Hendricks' (left) and Chef Saucedo's (right) fridges
"Check out the picture – it's obvious!"
– Stephen Hendricks, head brewer, Beaver Street Brewery (Flagstaff)
"Lots of produce and staples of Latin/Mexican cuisine."
– José Saucedo, chef a Coffee Pot Restaurant (Sedona)
"If it weren't for my wife, Rebecca, there'd be nothing in our fridge. Thanks to her it's stocked with fruit, cheeses, good charcuterie, wines, beer, yogurt, homemade jams and marmalades, great local baked bread, lettuces from our friends' gardens and other seasonal vegetables. Rebecca is the best cook in our family, so I'm a happy guy when I come home to find one of her pastas, pan-roasted salmon or perfect pork chops with apples and pureed acorn squash."
– Jason Wilder, chef and owner at Downtown Kitchen + Cocktails (Tucson)