Feature
Arizona Hot Sauce Taste Test
Like any good Arizonan, I love hot sauce. I prefer rich, savory sauces to those that are just plain hot; when I add it to a dish, I want something that will enhance my culinary experience, not mask it. For this taste test, I chose six Arizona hot sauces made in Phoenix—not because they're the spiciest, but because I thought they would be the ones with the best piquancy. Glass of water (very) nearby, I braved the heat.
Arizona Gunslinger
Based in Mesa, Arizona Pepper Products produces the popular Arizona Gunslinger line of sauces, adding bite to dishes since 1985.
Habanero Pepper
The Habanero Pepper smells exactly like a hot sauce should smell—a pungent tang that tingles the sinuses. When it hits my tongue, I taste a hint of sweetness before it turns salty, then sour. And then I get pure heat. Reminiscent of Buffalo sauce, this one is packed with vinegar. There's nothing fancy about Arizona Gunslinger's Habanero Pepper; it's just a really solid hot sauce. You could drizzle it on anything to add both heat and zest, but I like with potato-and-egg breakfast tacos.
Red Jalapeño Pepper
This one tastes similar to its habanero sister, but milder, putting it more on the medium level. It has a strong roasted-chile flavor, but it's salty, too. When I tasted it, my first food craving was for mango—something sweet to round out the flavor. When paired with starchy foods, the spice mellows, but just when you think it's gone, the heat hits your throat again. I like to cook it in fried rice for when I want a little kick.
Big Red's Hot Sauces
Based in Phoenix, Big Red's line of hot sauces has been winning national hot-sauce competitions since it launched in 2011.
Smokey Habanero
Smokey Habanero tastes and smells exactly like what its name promises: smoky. The heat hits my throat harder than it does my tongue, and the taste immediately makes me crave chicken wings. The spice level is a medium, at most. The sauce has a pleasant bite of vinegar—you can tell it's there, but it's not overwhelming—and it's reminiscent of barbecue sauce without the sugar. Add it to burgers or grilled chicken.
Original Sauce
This one is the mildest of all mild hot sauces. On first smell, all I could think about were barbecued ribs. It has that savory, smoky flavor that Big Red's Smokey Habanero has, but with the Original, the taste comes on stronger. Probably because it's not being masked by spiciness. This sauce works best to enhance the overall flavor of a dish rather than to add heat, making it ideal for soups, chilies or marinades. I'm thinking you could probably even make a great salad dressing with it.
Cutino Sauce Co.
Phoenix-based Cutino is the product of a 2017 partnership between Jacob Cutino's popular Homeboy's Hot Sauce line and James Beard Award-winning pizza maestro Chris Bianco.
Habanero
I didn't think this one would be spicy based on its mustardy scent. I was wrong. The taste starts off pleasantly sweet, followed by intense heat through the whole mouth and down into the throat. Pairing it with food tames the heat, though, resulting in a sweet-and-spicy combination that I would add to any dish. But my favorite way to use this hot sauce is to drizzle it on avocado toast topped with egg and mayonnaise.
Jalapeño
I was surprised by this sauce. With its distinct flavors of tomatoes, onion and lime, it tastes more like a roasted red salsa than a hot sauce. It's on the mild side, though it definitely has a bite. Something about the salt draws out a slight vinegar taste from the sauce, making it positively addicting. The salsa-esque flavor goes perfectly with tortilla chips or any other crunchy, salty snack like tater tots or French fries.
---
The Verdict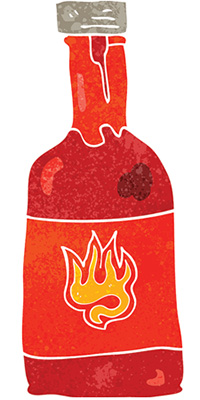 Because I picked the same two central peppers (jalapeño and habanero) for this taste test, I didn't expect to experience such diversity in heat, flavor and spice. Arizona Gunslinger's hot sauces smelled and tasted exactly how I expect hot sauces to measure up. And I'm still wondering how Big Red's could taste so much like smoked meat, albeit with vegan ingredients. But Cutino is my true love; I'll put it on anything and everything.
How to Buy
Illustration © lineartestpilot – stock.adobe.com