Guest Post
6 (Mostly) All-Vegan Phoenix Restaurants
My teenaged daughter and I recently moved to Chandler from a tiny Colorado town, and we were blown away by how many vegan (and vegan-friendly) restaurants there are in the Phoenix area. As time went on—and after much dining out—I compiled a list of my six favorite vegan spots.
1. Ruchi Vegetarian South Indian Cuisine
Chandler
I'll never forget how wide my daughter's eyes got when she realized she could get vegan naan. Ruchi's menu is all vegetarian (mostly vegan), and the owner, Raj, makes us feel like family every time we dine here. In addition to the excellent service and delicious food, the value is great. The lunch buffet offers more food than I've ever seen at an Indian buffet and includes masala dosa—a sort of South Indian crepe made partly from lentils.
2. Café Lalibela Ethiopian Restaurant
Tempe

Oh, holy yum. If you've never had Ethiopian food before, you're about to enter a whole new world of delicious and satisfying cuisine. Café Lalibela's menu is divided between meat and vegan dishes, with loads of options for vegans. There's nothing like scooping up fosolia (spiced green beans and carrots) or misir wat (spicy red lentils), which are two of my absolute favorites, with a piece of spongy, fermented injera bread. (You can forget the silverware here.) For gluten-free vegans, order the all-teff injera.
3. Pomegranate Cafe
Ahwatukee
This all-vegan restaurant is a great place to get your daily intake of greens. There are so many healthy options, like super-food smoothies made with organic fruits and veggies or raw tacos. If you're feeling decadent, Pomegranate Cafe's drool-worthy nachos are covered with housemade vegan cheese, beans and walnut "meat." For dessert, get the all-raw "Snickers Bar," a vegan pastry perfect for road trips.
4. Pizza Heaven Bistro
Phoenix
This is my daughter's favorite pizza place. The décor is casual and the service is top-notch. The vegan section of the menu is extensive and includes pizza, pasta (including gluten-free options), salads and desserts. My daughter's favorite: Angel Bites, fried dough tossed in sugar and cinnamon with chocolate dipping sauces.
5. Casa Terra
Glendale
I've only been to Casa Terra once because this all-vegan fine-dining spot is so new. I was impressed with the vibe and impeccable service. Executive Chef Jason Wyrick really knows food, and his dishes—tempeh chorizo flautas or truffled arancini with ricotta—are inventive and elegant. I also love that Casa Terra gravitates toward fresh, whole foods as the foundation of most of its dishes.
6. Verdura
Phoenix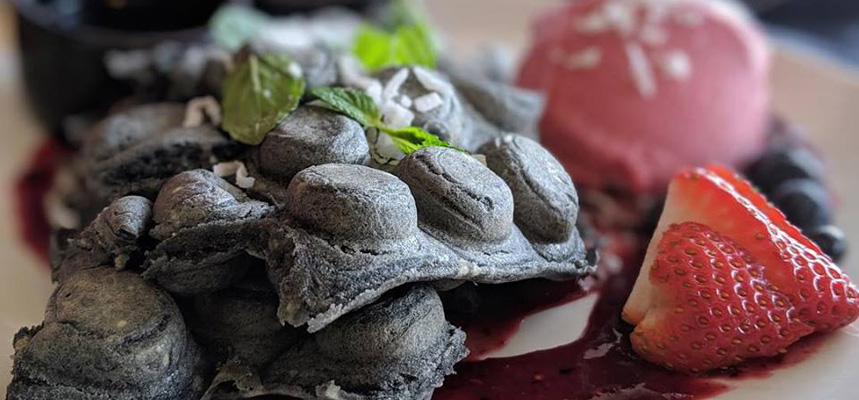 Verdura's "goth waffle" with activated charcoal and berry-based sides / Credit: Sam McGee
This is another new all-vegan eatery, and the food is fresh, fun and appealing. Start off with the delicious "carne asada" nachos (yes, they're vegan!); the seitan-based meat is perfectly seasoned. Then move on to General Pow Cauliflower with spicy General Tso sauce and shishito peppers. For dessert, order the Goth Waffle, a bubble waffle made black with activated charcoal and topped with raspberry sorbet.