Feature
5 Foods You Must Eat in Arizona
Whether it's a dish whose origin story is firmly rooted in Arizona soil or an indigenous ingredient not found anywhere else in the country, these foods should be savored right here in the Grand Canyon State.
Sonoran hot dog
Where to find it: El Guero Canelo, Tucson
Believed to have originated in the 1940s, this street food from Sonora, Mexico, puts a south-of-the-border twist on its American counterpart. Instead of a traditional bun, a split-top roll called a bolillo cradles the hot dog, which is wrapped in bacon and piled high with pinto beans, onions, tomatoes, mayonnaise and other condiments. Sample an authentic Sonoran hot dog at El Guero Canelo, a James Beard 2018 America's Classics winner for its exceptional rendition. And read more about El Guero Canelo in our story "Eat Like a Tourist: Tucson".
Mesquite flour
Where to find it: Cartwright's Modern Cuisine, Cave Creek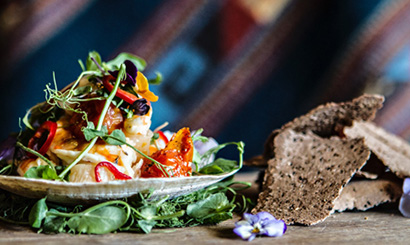 Cartwright's Modern Cuisine's mesquite flour-based corn crackers (Credit: Experience Scottsdale)
Made from the dried, ground pods of mesquite trees—their low, green branches stretch wide, ideal for shady desert coverage—this American Indian dietary staple has a sweet, slightly nutty flavor. It's often considered a superfood thanks to its high protein and a calcium-rich makeup. Arizona chefs like to experiment with it, frequently adding the flour to breads, pizza dough, pancakes, muffins and other baked goods. Mesquite flour pops up in surprising ways at Cartwright's Modern Cuisine in Cave Creek: in corn crackers with shrimp ceviche, brioche croutons on the salads and in the herb gnocchi.
Cheese crisp
Where to find it: Macayo's Mexican Restaurant, Phoenix
Think of the cheese crisp as an open-faced quesadilla. It all starts with a flour tortilla stretched out on a pizza pan, brushed with butter and then toasted in the oven for a few minutes. Once it's lightly crisped and starting to curl at the edges, the tortilla gets layered with cheese (and sometimes green chiles), then goes back into the oven to melt the cheese. It's cut into slices—again, like a pizza—and served. Macayo's Mexican Restaurant in Phoenix gets credit for perfecting and popularizing the cheese crisp during the restaurant's 70-year (and counting) run.
Chimichanga
Where to find it: El Charro Café, Tucson
Also known as a "chimi," the chimichanga is a deep-fried burro (a large burrito) served with scoops of sour cream and guacamole. Do as the Arizonans do and order it enchilada style; that is, smothered with red chile sauce and gooey cheese. Legend has it that in the early 1920s, in Tucson, El Charro Café founder Monica Flin invented the chimichanga—or "thingamajig"—when a burro fell into the deep fryer she was using.
Native American fry bread
Where to find it: Hopi Cultural Center, Second Mesa
Fry bread dates back to 1864 when the Navajo people from Arizona were forced to make the "Long Walk," a 300-mile deportation to a reservation in New Mexico. Using their limited supplies, the Navajo combined flour, water, salt and baking powder and then fried the dough in lard. Today, the dish has since been adapted by other tribes, and the fluffy bread is usually topped with beans, meat, cheese, lettuce, tomatoes and sour cream, or it's used as the shell for taco fixings. Stop at the Hopi Cultural Center to taste some of the state's best fry bread as you explore the Hopi Arts Trail. Read more about fry bread in our story "Don't Mistake Indian Fry Bread for Funnel Cake".